In our latest e-newsletter our Community Bookstore manager, Kim Kanney presents the following titles as inspiration for positive change. Please check them out!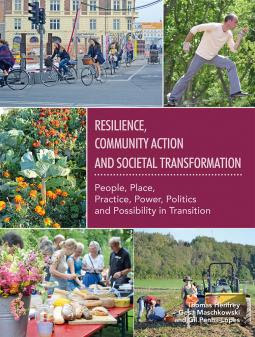 Resilience, Community Action and Societal Transformation People, Place, Practice, Power, Politics and Possibility in Transition.
$20; 216 pages; paperback; 2017
by Thomas Henfrey, Gesa Maschkowski & Gil Penha-Lopes
Resilience, Community Action & Societal Transformation is a collection of research, theory and practical action for creating resilient societies and action-oriented communities. From first-hand accounts of the Transition Movement to theoretical reflections on resilience theory, the compilation features authors, activists, and scholars from across the globe for a colorful expression of what societal transformation can and does look like.
Permaculture and Climate Change Adaptation Inspiring Ecological, Social, Economic and Cultural Responses for Resilience and Transformation
$16; 112 pages; paperback; 2016
by Thomas Henfrey & Gil Penha-Lopes
Permaculture and Climate Change Adaptation describes in broad terms how permaculture's underlying philosophy and perspective on climate change complement those of formal science and indigenous knowledge, provides detailed descriptions of practical applications drawing on case studies from around the world, and considers how global responses can most effectively draw upon the unique contributions permaculture has to make.
If you're interested in similar topics, check out our bookstore's Social Change section and these featured titles:
Together Resilient is a book that advocates for citizen-led, community-based action first and foremost: why wait for the government when you can take action today, with your neighbors?
From small solutions to the full re-invention of the systems we find ourselves in, this book mixes anecdote with data-based research to bring you a wide range of options that all embody compassion, creativity, and cooperation.
Also available as Digital Download!
Designing Regenerative Cultures by Daniel Christian Wahl
Paperback, 2016. 288 Pages.
This is a 'Whole Earth Catalog' for the 21st century: an impressive and wide-ranging analysis of what's wrong with our societies, organizations, ideologies, worldviews and cultures—and how to put them right. The book covers the finance system, agriculture, design, ecology, …